We paid off our mortgage.  Goodbye, bank!  You were good to us, letting us make all those extra principal payments without penalty for our unconventional mortgage.  But the time has come for us to go our separate ways.
My super official note to the bank…and no, we don't have kids.
Getting the "special" check from the bank 😉
The moment of truth…yes, we actually mailed it!
Related Post: Steve at Think Save Retire wrote about our downsizing journey (includes pictures of this house we just paid for). Check it out!
Did You Know…
that you need a special "payoff amount" letter to know what you actually owe?
And that you need to mail a "special" check (i.e. a cashier's check) in order to make the final payment?  Yeah, our personal check was not sufficient.  HAHA.  Where's that chapter in the handbook on adulting?
AND that since we started blogging in April 2015, our debt is down nearly 89%.  Wow!
Debt Total Today: 
$24,495.32
We didn't do anything special to get here.
We eat all of the food we buy, which we didn't do before.
We live in less house than we could afford and made extra principal payments, which we didn't do before.
We hustled.
Basically, we tried all of the ideas out there in the personal finance blogosphere to spend less.  Small changes really do add up every single day.
Since we paid off the mortgage, life is EASIER.  We've found ourselves with options we haven't had in YEARS.
Post-Mortgage Life
Power
I feel like we have the ability to do anything we set our minds to.  Yeah, it might be a cliche, but it's true.
We took on a $70k mortgage last year, set a lofty goal to crush it, and we DID IT!  We really did pay off the mortgage.  It's almost unbelievable!
Before 2015, I thought we were going to be in debt forever.  I felt powerless.  I thought we'd be saddled with that "shoulda, coulda, woulda" attitude, always wishing we'd be living life rather than actually living it.
I think this entire experience of downsizing our home and crushing our debt showed us what power we have to make changes in our life and finances.
Control
We put control of our money in the hands of creditors.  Yeah, we elected the debts we have, but we weren't well-informed consumers.
"How much can I afford to pay?" – us before 2015
"We'll tell you exactly how much you can afford!" – every creditor ever
"Awesome!  Math is hard." – us before 2015
I hardly trust the advice from my doctor, so how did we end up handing over (almost) complete control of our finances to banks?!  No idea.  It seemed like a good idea at the time.
Today, we control much more of our money than we have in YEARS!  Budgets are FUN!
Flexibility
Whenever someone would ask me if I "rent or own my home," I'd say neither because we had a mortgage.
Well, we own the house now…true ownership.
If we want to sell our house, we can!  If we want to rent our house, we can!  If we want to house swap so we can spend months abroad, we can do that, too!
Flexibility is so important to my Quality World.  I want the ability to move easily around the country and around the world, so mortgage freedom gets us one step closer.
Choice
With our largest debt gone, we have an extra $500 each month to dedicate to the last of the student loan debt.  Or we have $500 to use for another financial goal.  Or to spend frivolously (just kidding).  Remember all the stuff we're not going to buy when we're debt free?  Yeah, we're holding to our promises to avoid lifestyle inflation.
Once again, we have the choice to spend our money as we wish.  Sure, we didn't HAVE to pay off our mortgage–that was a choice(ish).  But it's different now that we own our home.  I'm glad we made the choice we did.
Maybe our next choice will surprise you given what we've done in the last 20 months.  More on that in a moment.
Time
We're freeing up our weekends (again).  Moving into the small house gave us a TON of free time last year.  After a couple of months enjoying local parks and a new gym routine, we dove into launching a business using our newfound free time.  We spent our free time working rather than hiking.
Since I've quit my job in September 2016 to focus on our business on a full-time basis AND we've paid off our mortgage, we decided to reclaim our free time.
We're hiking.  We're biking.  We're going to the gym.  We're baking muffins.  We're enjoying time at our house.  Our house.  🙂
What's Next in Our Journey (Oregon Trail Style)
I had the good fortune to attend an elementary school equipped with Macintosh computers and THE Oregon Trail game.
My favorite memory of elementary school was The Oregon Trail.  Computer class couldn't come soon enough.  I was addicted to the game.
Class wasn't quite long enough to play it through, so I tried rushing through the game to see what the end was like.
I never, ever made it to the end.
Ever.
This was the greatest failure of my childhood.
Fast forward 20 years (!!!) and I have the Internet at home and my OWN computer.  Some amazing and wonderful person put The Oregon Trail online at archive.org.
I bet you can imagine what happened next on my day off.
I played The Oregon Trail.  And I made it to the end in one turn!  I cheered!  I jumped up and down!  I took a screenshot and sent it to my sister to commemorate the occasion.
After 20 years, I finally figured out what I did wrong, what kept me from finishing the game.
If you've played the game, you know that you have to choose one of three paces: steady, strenuous, or grueling.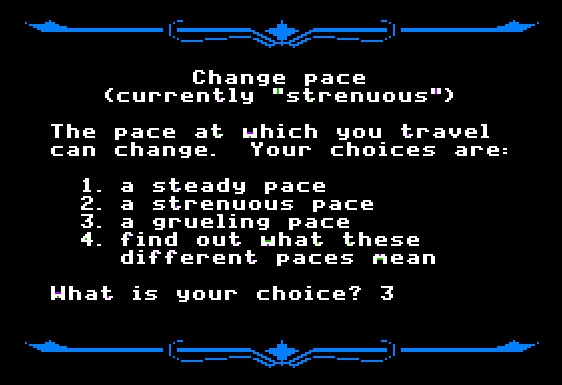 From LPArchive.org
As I kid, I knew I had limited time to play the game, so I chose a grueling pace.  Surely a grueling pace would get me to the finish line FASTER!
Every time I played the game, everyone died.  I didn't get to Oregon.  Bogus.
What happened when I played the game as an adult?  Steady pace, for the win!  I kept my people fed.  I took breaks when someone was sick.  And I avoided wasting all of my ammunition on hunting bears I couldn't carry anyway.
If you read about how I opted not to take a vacation (heck, even one weekend off seemed crazy), you know how much I side hustled to help us crush our debt.  You can probably guess what pace we selected for our personal finance journey: grueling.
Related Post: If you'd like to read an epic series on personal finance from the perspective of The Oregon Trail, check this out over on Jana's blog.
Grueling has its place, but it can't be the pace for each and every single day.  You can only be so frugal, hustle so much before you wear yourself out.
Is it rewarding having come this far?  YES!  We crushed our $70k mortgage in a little more than a year.  But this is not a pace we're going to sustain in order to pay off the remaining $25k of student loan debt.
We're switching to a steady pace to pay those student loans so that we can also make progress on building the 200 sq ft tiny house as well as other goals we have for next year.  There's a lot we have to share about our plans for 2017, but that can wait until next year.
For the rest of 2016, we're going to enjoy this moment in our journey.
Officially mortgage free. ? Officially celebrating with an adorably small bottle of super sweet champagne. #FinancialFreedom ? pic.twitter.com/3JvkwIszzK

— Claudia (@twocuphouse) November 20, 2016
UPDATE: We're completely, 100% debt free!
---
SmartAsset Affiliate Program